Cub Scout Training
Training
Training is fun and easy, and you'll be the best leader you can be when you understand Scouting. Be more effective in creating programs. Learn about resources to make your job easier. Lead by example – show your commitment to Scouting and inspire others.
Cub Scout leaders are considered trained, and eligible to wear the official Trained emblem, once they have completed Youth Protection Training and leader specific training for their position, or have completed Youth Protection Training
Cub Scout Den Leader Position-Specific Training
The link below is to the syllabus for trainers to use in presenting the standalone den leader specifics course. The course is intended to provide Tiger Cub, Wolf, and Bear den leaders with the information and tools they need to conduct successful den meetings. Den leaders who complete this training and Youth Protection training are considered "trained" for all three positions.
Download PDF
This Is Scouting
This Is Scouting provides an overview of the Scouting organization, including history, values, programs, Youth Protection, community involvement, and training. The module consists of six video sections, each followed by a brief quiz. Estimated time to complete: 50 minutes.
Log in to MyScouting to take this course online
YOUth Protection Begins with YOU!
The Boy Scouts of America places the greatest importance on creating the most secure environment possible for our youth members. To maintain such an environment, the BSA developed numerous procedural and leadership selection policies and provides parents and leaders with resources for the Cub Scout, Boy Scout, and Venturing programs.
The following resources may be used by parents and leaders in their efforts to protect youth. Several are are available for purchase. Visit your local Scout shop or www.scoutstuff.org
.
The Guide to Safe Scouting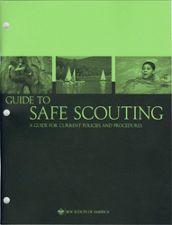 Cub Scout Leader Youth Protection Training
Topics covered include the BSA's Youth Protection policies, kinds of abuse, signs of abuse, how to respond to disclosure of abuse, and proper reporting procedures.
Cyber Chip
To help families and volunteers keep youth safe while online. Topics include cyberbullying, cell phone use, texting, blogging, gaming, and identity theft.
.
How to Protect Your Children From Child Abuse: A Parent's Guide
A booklet, included in the printed handbooks, providing tips to help parents talk with their sons about child abuse.
It Happened to Me / A Mi Me Pasó
This video should be used annually by Cub Scout packs or dens when Cub Scouts are accompanied by a parent or other adult family member. (English and Spanish facilitator's guides, and a sample letter to parents and guardians, are available.)
Meeting Guide – English
Meeting Guide – Español
– Purchase Online
The following print materials may be obtained through your local council service center:
The Power Pack Pals comic books, available in English and in Spanish, are for Cub Scout-age boys.
Power Pack Pals
Los Superamigos del Pack
First in a series of eight-page comic books for Cub Scout-aged kids, featuring T.C., Akela, and Baloo. Power Pack Pals features the three pals talking to kids about bullying and smart ways to deal with it.
Purchase – English or Español
Power Pack Pals: Be Safe on the Internet
Power Pack Pals: Seguridad en la Internet
Second in the series of youth protection comic books featuring Akela, Baloo, and T.C. addressing dangers that kids could encounter on the Internet and how to avoid them.
Purchase – English or Español
Power Pack Pals: Four Rules for Personal Safety
Power Pack Pals: 4 Reglas Para Seguridad Personal
The third installment in the youth protection comic book series featuring Akela, Baloo, and T.C. includes scenarios that advise kids about the dangers of strangers and inappropriate behavior by adults toward children, and what to do in scary situations.
Purchase – English or Español
Basic Adult Leader Outdoor Orientation (BALOO)
This course is designed as an introduction to the Cub Scout outdoor program for those leaders who are interested in adding a camping component to their Pack activities. BALOO is an instructor-led course which is conducted at the Council level. BSA's Cub Scout level camping policies will be taught along with the necessary tools to help units carry out a successful camping experience.
Completion of this course is mandatory for at least one adult on a Pack overnighter.
The course syllabus is available from your local council or through Scoutstuff.org
.
Outdoor Leader Skills for Webelos Leaders (OWL)
This course is designed to help Webelos leaders enhance the outdoor program for the Webelos Scouts in their den by teaching some basic outdoor skills as well as skills needed to complete many of the Webelos activity badges. This course can be taught as a stand-alone experience but is often presented in conjunction with Introduction to Outdoor Leader Skills (IOLS).
Download PDF
The Trainer's EDGE
The Trainer's EDGE replaces the Trainer Development Conference (BSA 500) as the required train-the-trainer course for Wood Badge and NYLT staffs. It is meant to supplement the practice offered through Wood Badge and NYLT staff development, with a focus on the participant, while raising the level of skill a trainer brings to the staff experience. Only practice can polish these skills, but this course is intended to "train the trainer" on behaviors and resources while offering hands-on experience in methods and media.
View online
Supplemental Training
Supplemental training modules are designed to provide Scouting leaders with orientation beyond the basic training offered in This Is Scouting and leader-specific training.
The Fundamentals of Training
This is the first part of the three-part train-the-trainer continuum (T3, or T-Cubed) in the Boy Scouts of America. The course introduces teaching techniques and skills to new Scout trainers but is also designed to help all Scouters, regardless of their experience, present effective training. Intended for both youth and adult trainers, the course will help those who might have trained for other organizations learn the BSA's training techniques, and it will help freshen up the skills of current BSA trainers.
The Fundamentals of Training Syllabus

PowerPoint: Good, Bad, and Ugly
Fillable Training Cards
In conjunction with the Volunteer Development Team, the National Supply Group has released the latest version of the pocket-sized certificate of training. Simply specify SKU 615012 when ordering from your local Scout Shop or through scoutstuff.org. Click on the link below to open a pdf template that has been created for convenience in filling out these portable training records.
Fillable Training Cards