Council announces District changes coming soon!
The CFL Council will be announcing some exciting changes to the District alignment strategy.  Changes are coming to better serve our youth.  The meeting below is scheduled to share these changes with you.  Any member of the District Committee or Commissioner Staff should attend.  Any other registered Scouter is allowed to attend this free even as well.
https://scoutingevent.com/083-CFCDistrictLeadershipSummit2018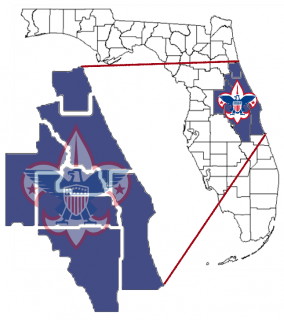 BOY SCOUTS OF AMERICA
CENTRAL FLORIDA COUNCIL
  2018 District Leadership Summit
Who should attend?
Scouters involved in district program, training, events, and membership
All District committee members
All commissioners
Interested Scouters
When:  February 10, 2018
Where:  LDS Church on Par (45 E Par St. Orlando, FL)
Cost:  None.  (Continental breakfast and lunch will be provided)
Theme:  "Mapping out our Vision"
All adult leaders serving at a District or Central Florida Council level are invited to attend the 2018 District Leadership Summit, where Scouters throughout Central Florida Council gather to discuss new plans, share ideas, hear about new program tools, and enjoy true Scouting fellowship.
National representatives and Central Florida Council leaders will update about new and upcoming developments.
The Summit begins Saturday morning with continental breakfast starting at 8:00am followed by focus sessions and program.  The Summit will end at 4pm.
https://scoutingevent.com/083-CFCDistrictLeadershipSummit2018