2015 Popcorn Campaign
| | |
| --- | --- |
| One Central Florida Council Troop has sold over $38,000 in Popcorn | |
Can Boy Scouts sell popcorn? ABSOLUTELY! Troop 837 started the popcorn season with twelve Scouts selling popcorn and now have four new Scouts also earning their way. They are a self-sufficient troop where the boys plan their activities and set their own budget. This year they have not only planned monthly campouts and other events but also planned two out of state trips. All fully funded by their fundraising showcasing that popcorn does equal program. In six short weekends they have sold over $38,000 in popcorn.
Congratulations Troop 837!
All Scouts with some planning, common goals, proper uniforms, displays, and following the high standards of the Scout Law can achieve BIG things. Learning and earning the Salesmanship Merit Badge helps our Scouts to meet their objectives. One of our Scouts jumped for joy when he learned that he was one of the weekly drawing winners for the drone. All of our Scouts are hoping they are the next winner as they have put so much heart and soul into the council sponsored popcorn fundraiser. We work hard and play harder.
Tristan of Pack 277

The 2015 Popcorn Campaign is in full swing.
Scouts from Central Florida are out canvassing neighborhoods and out selling at show-n- sells at local businesses. In 2015, we have great new incentives for our Scouts starting with the Fill it Up Club. Each time your Scout fills up his take order form he can enter for a chance to win a Drone (yes..a Drone)! To date 7 Scouts have won a drone and the latest winner of the Fill it Up Club is Tristan from Cub Scout Pack 277 in the Lake District. We will continue to draw a winner of the "Fill it Up Club" each week until the end of the popcorn campaign. Please click the image below to register your Scout each time he "Fills it Up!"
Military Donations for our Troops
In 2014, our Council secured more then $50,000 in Military Donations for Popcorn to be delivered to our men and women serving our Country in the military. Please click Military Popcorn Donations to view pictures.
In 2015, we know that we can get more Military Donations. To reward our Scouts each time a Scout sells 5 Silver Level Military Donations he will receive a special limited edition 2015 Silver Military Shoulder Strip Set (5 patches) and each time a Scout sells 5 Gold Level Military Donations he will receive a special limited edition 2015 Gold Military Shoulder Strip Set (5 patches). If your Scout has already completed this please click one of the boxes below:

Attention Top Sellers
Be one of the Council's Top 100 Popcorn Sellers and get invited to a special Top Seller Party.

Council Prizes
Along with the Popcorn company prizes our Council has some awesome prizes too.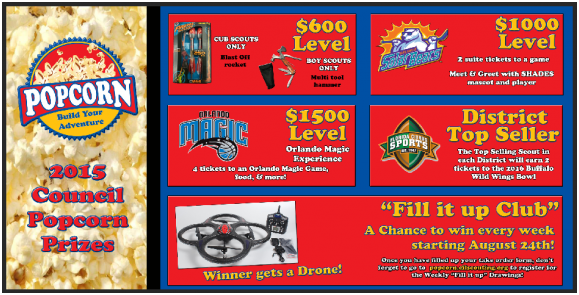 More Information
For more helpful tools and tips please visit the Council Popcorn Website at http://popcorn.cflscouting.org.
Questions please contact Council Popcorn Staff Advisor Chris Crowley at Chris.Crowley@cflscouting.org.
2015 Popcorn Campaign

October Update